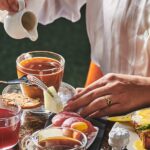 When it comes to the most important meal of the day, we take it seriously. Fresh, rich and varied breakfasts are served in all of the Atlas hotels. The brunch at Café 65 has been one of the most well-known and recommended in the city for several years, and the Backstage Hotel serves a brunch that has become famous for being one of the best meals in the city in a short period of time. In all of our hotels we emphasis on a well-designed and pleasant dining room, comfortable tables and chairs and if possible armchairs, beautiful and inviting service and a large selection.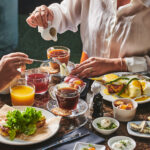 Backstage Café
Backstage Café's brunch is an immersive, surprising and stimulating experience.. The place offers a varied and elegant buffet of breads, pastries and beverages; a tray overflowing with various salads, cheese and fish; And when ordering at the table, the guests are invited to choose a personal hot dish, such as sunny-side-up on salty French toast and Gouda, bread pudding with egg and tarragon salad, caramel pancakes, bananas, whipped cream with pine nuts and more.


Café 65
Café 65 is located on the entrance floor of Hotel 65 – from the Atlas hotel chain. The colorful and lively place offers a meticulous breakfast, and a menu suitable for the urban lifestyle of the residents of the boulevard. In the mornings, afternoons and on weekends – a particularly indulgent brunch.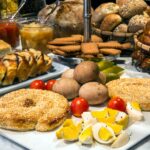 Market House
Good morning Jaffa!
At the center of the Jaffa Flea Market and only a few steps away from the beach and the Old Jaffa Port, start off your Jaffa excursion with breakfast at the Markethouse Hotel, which is open to the general public. From our homestyle hummus to a variety of shakshouka and "Sabich al Hir" – a tray of the traditional sabich, the hotel's breakfast offers the best of Jaffa's cuisine with an elegant, stylish, and kosher buffet that brings the entire mosaic that is the unique Jaffa experience to your plate.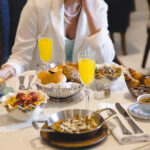 Shalom&Relax
Start off your day by relaxing on the blue-white and rose sofas with a cup of coffee, looking out on the sea which is only a few steps away – no other breakfast offers this the way Shalom Hotel's does. With its colorful buffet and salad bar that includes a health bar, a selection of fresh juices and warm entrees, Shalom Hotel's breakfast is not only the most important meal of the day – it's the best.